I've been going to various conferences and conventions since the 2000s, and I'm not alone in throwing out or donating 90% of the free swag because it's junk.
Why I Wrote this Article?
Two mottos I tailor my life around are" "function over for" and" "quality over quantity". If you're like me, you'd have extra respect for a brand or company that shares the same values. So when it comes to promotional swag or even branded apparel, you need those items to reflect the quality of your brand's products or services.
Putting an End to Cheap Corporate Swag
It's time to put an end to cheap corporate swag. Pens, t-shirts, pins, hats, and other promotional items might seem like a good idea at the time, but don't. Please—don't.
Not only is this a waste of money, but it also sends a message to the world that you don't value high-quality merchandise, which risks casting a shadow over your products or services.
So instead of settling for a mass of cheap swag, consider investing in a few well-made, useful items that will be appreciated and used for a long time. Not only will this show appreciation for your customers, clients, fans (and employees, too), but it will also positively promote your brand.
Below is a hand-curated list (from me) of the best swag items I've received, with a list of things I would personally avoid at all costs.
Yeti Insulated Mug for Hot and Cold Drinks
Yeti is a lifestyle brand with an undertone of buy-it-for-life characteristics. Their products are meticulously designed to be an extension of whatever adventure you're on for work or play. (those are my words, not theirs)
They're branded and powder-coated and will keep drinks warm (or cool) all day. I really like Yeti products, and I've received 2 from different high-quality brands.
Takeaway: Reaction Digital invests a lot of care and attention in its swag, and it shows in the details. This stems from their team's incredible industry-leading website development projects.
Cable & Accessory Pouch for Work, Home, or Travel
In the sea of swag options, an item that made my list is this handy 3-compartment accessory pouch I got from Convesio.
Convesio is a website hosting company that I met at a web development conference in San Diego. After chatting with the CMO, I got a sense that they're on the upper tier of hosting providers, and that could reflect in this cool accessory bag.
They handed me a standard swag shirt at their booth, but as I was leaving, the CMO reached under a table to a special box and handed me this nifty bag. It measures ~10″ x 7″, and it holds everything that used to float around in my backpack.
Takeaway: It's a possibility the box of accessory bags under the table was reserved for VIP booth visitors, so think about a few upper-tier items for select potential and loyal customers.
Branded Cable Management Ties
What I like about velcro cable ties is that everyone has cords around their house or office that are unorganized or look unsightly. For a relatively low cost, you can have your brand on the side of thousands of cable ties around the world. And it's an item that people are likely to hold on to for many many years.
These were purchased in bulk from Amazon, but you also see brands like Linus Tech Tips sell them as merch.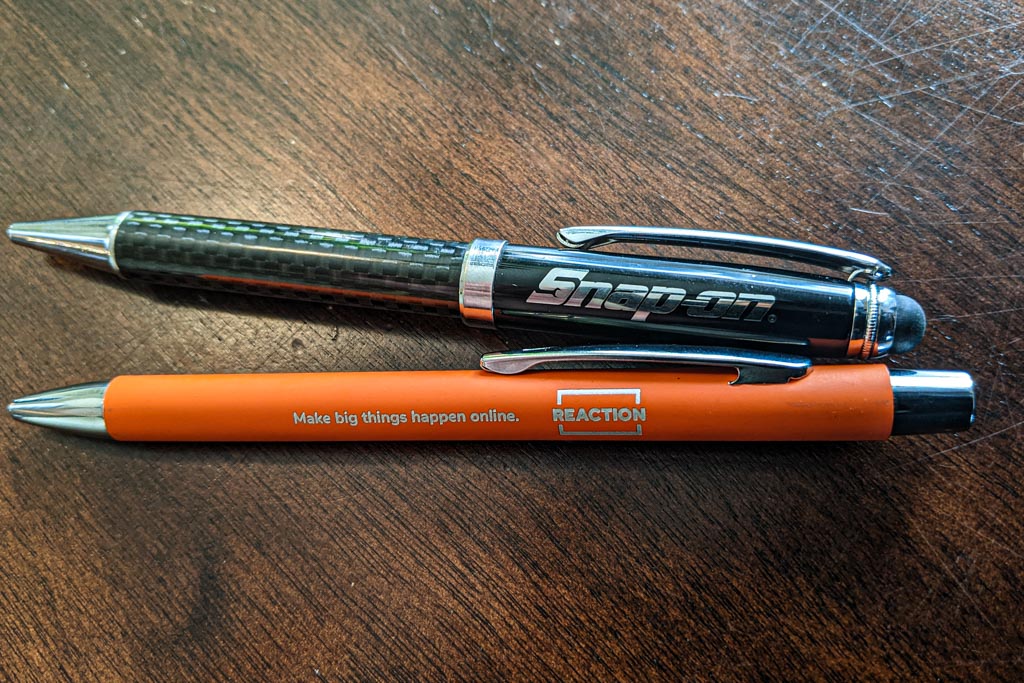 Pens Made with Premium Materials
Fact: No one is going to cherish a .80-cent Bic pen with your logo on the side.
Giving your clients and fans something they'll want to hold on to for many years means designing a pen that stands out from other generic ones. The soft-touch metal pens from Reaction Digital and this limited edition carbon fibre (it could be fake) pen from Snap-On tools are two that come to mind when I wish I had a good pen to use. You can still brand your company on a plastic pen. It just needs to be one you'd be proud to give away.
Tip: Depending on the recipient of the pen, write a contextual note about their line of work and how you hope the pen will help. That will REALLY make them think about your brand.
One Shirt to Rule Them All
Cheap shirts are cheap for a reason. They're often thin and see-through (in certain conditions), made with low-quality polyester fabric that doesn't breathe or has terrible sizing that fits boxy and unflattering.
As a broad man over 6 feet tall, I don't even bother with unisex shirts, and I'm not alone in this. For your brand, please keep this detail in mind, or you risk discriminating against some of your loyal customers and fans.
The Canadian company Mark's has some of the best cost-to-value clothes I've ever purchased. They offer in-house corporate branding services, or you can purchase clothing in bulk to bring to your preferred print shop.
Choose/consider:
100% cotton or a majority cotton blend
Heathered fabric will always be a classic
A v-neck can make the shirt stand out, but not a deep v
Silk screening over vinyl decals any day
Embroidery work is situational
Avoid:
100% polyester shirts
Vinyl decals
Thick, bulky patches
Water Bottles that are Useful
I've been given a handful of conference water bottles that have all leaked from new and could have caused thousands of dollars in electronic damages if I wasn't paying attention. I won't call out any big companies, but if you know, you know.
Here's a short list of a few companies that make great water bottles that accept professional branding:
Silly Swag to Avoid
Stress balls
Pins
Cheap hats
Beach balls
Calendars
Plain tear-off notepads
Generic/off-brand water bottles
Rubber bracelets
Magnets (unless it's a damn good one)
Final thought
It makes me sick to my stomach seeing thousands of dollar-store-grade swag being manufactured just to end up in landfills as global waste.
This isn't a call to action to introduce a climate change program within your company. I'm just asking you not to fall victim to feeling the need to pump out cheap swag to the masses in the name of promoting your brand.
Hey. If you need professional advice on the best swag for your specific company and needs, that's why I'm here.